Yes, decorating, hiring designers, repainting, new furniture...all of these things are FULL of potential obstacles:
Even if you can find the perfect interior designer who understands your style - and trust me, that isn't easy - there's still so much to do. And so much to pay for. And so many decisions to make. And all of that is besides for the hefty fee for the designer themselves!
You're jealous (but try not to be) of the people who seem to have effortless style, whose houses look clean and uncluttered and bright, and who are always just happening to come across a fantastic deal for the perfect painting. Or lamp. Or couch, darn it.
I know right where you are...because I was once there too.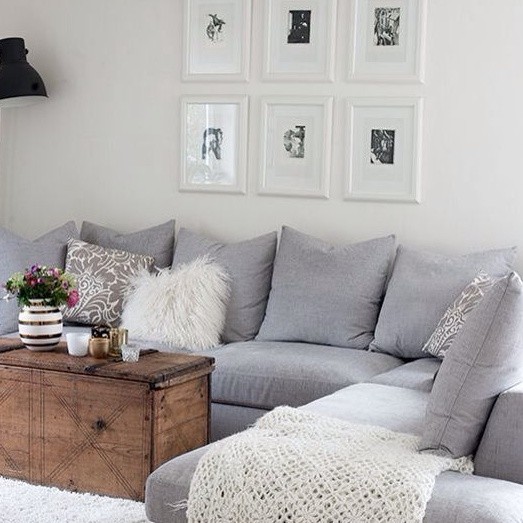 Really, it is. Once you have a good feel for what your style is, you'll be able to instantly know what will work for your home and what won't. You'll know which colors you love and which ones complement them. And you'll
You get all of this, with one extra invaluable resource: me.
With lifetime access to a private Facebook group JUST for the members of Design Your Dream Space, I'll not only be present on a day-to-day basis to give you advice when you need it,
I'll also be hosting weekly Facebook Lives to answer any questions you may have about the course, your specific rooms, your personal style and how to find it, and pretty much anything design-related that you can think of!
PLUS, when you buy this course, you'll also get a free 30-minute consulting session with me (which normally costs $97) on Skype, so you can show me exactly where in your home you need help and get my suggestions!
You honestly can't lose!
BUT YOU KNOW WHAT? LET'S BE HONEST. TRUTHFULLY, YOU DON'T HAVE TO BUY THIS COURSE.
YOU CAN ALWAYS…
Try to figure it out yourself and then ask the advice of all of your friends and family to make sure you're getting lots of opinions to choose from - but you've been doing that already, haven't you? HAS your home improved? Or are you just overloaded with information and advice?
Look to Pinterest for inspiration - but you've been doing that too, and now you've got 15 different Pinterest boards with different styles and you're STILL confused as to which one appeals to you the most!
Hire a professional interior designer - but you might have to take out a loan in order to afford the fee + all of the new fittings and furniture. And you may not even LIKE the style they recommend and be embarrassed to speak up - and you'll be stuck back where you started, with a home you don't enjoy spending time in! (This part is a common fear among you - and it's a totally valid fear, too, if you don't have a designer that understands you!)
SO LET'S DISCUSS WHAT YOU'LL SAVE BY BUYING THIS COURSE!
Money. Obviously. As I mentioned above charge $997 MINIMUM to design a room, and at least $6000 for a standard size home. You get all of my knowledge for a fraction of that price!
Time. Time spend scrolling on Pinterest trying to find the perfect look that suits you. Time spent shopping for the couch that you can't visualize but know you need. Time on a long, drawn out redecorating process that stresses you and your family out and never seems to be finished.
Frustration. By taking away the guesswork when you're shopping for your home and you've got all of your friend and family's opinions spinning in your head. When you keep moving your furniture around because it never looks quite right. When your home feels cluttered and disorganized and you feel like throwing your hands up and just GIVING UP.
OKAY, SO WHAT AM I GETTING?
So glad you asked! Here's a rundown of what exactly you'll be learning in the course.
Part 1: The Foundations of Design
Colors, their effects, and designers top picks.

Finding your own style and the style for each room.

What you need to know before you start designing.

The secrets that interior designers know to create a professionally designed appearance.
Part 2: Detailed Room Design
Entryways
Why first impressions are key and how to make the right one, plus practical tips for storage and usage
Living Room
The importance of conversation circles and different ways to arrange them that fit your space, how to choose your design focal point and how to style it, and how to create a living room that looks lived in and homey but still is uncluttered without looking completely bare
Dining Room
How to promote healthy eating habits with the design of the room, how to create an easy flow to the room, and how to make sure there's plenty of space for food, family, and creating memories!
Kitchen

All about practicality with style, the flow of the kitchen, creative storage ideas that you can customize to fit your individual space, how to design a kitchen that's optimized for keeping it clean, and how to make it a welcoming space (because we all know the kitchen is the heart of the home!
Master Bedroom

All of the different areas that are important in your bedroom, how to make your room feel like an oasis, even in the middle of chaos, and how to balance the male and female aspects for a room that you and your man can both love!
Children's Bedrooms

How to incorporate each child's personal style while maintaining continuity throughout the home, creating a safe space for your children, and how to allow the bedroom to grow with them.
Bathrooms

You'll learn how to keep your bathrooms pretty and looking clean, how to add personality around all the basic fixtures of a bathroom, and how to upgrade it without changing all the fixtures or pipes. (This is especially great for renters, and when you're on a budget.)
Playroom
How to make sure your playroom is growing with your children, creating a happy but still stylish space that everyone loves to be in, and how to store your toys so that it can easily stay neat and be cleaned up quickly!
Home Office
The importance of choosing the right seating, how to design and organize your workspace and storage area, and how to separate it from your home life and customize it to your needs for optimal productivity and business goal achievement!
Guest Room

How to design a guest room that makes our guests feel comfortable, and how to keep the design neutral while still leaving the room to personalize it for guests!
Laundry Room
How to take away the dread of doing laundry and making it a happy place, storage and practicality in laundry rooms, and tips for making laundry easier.
PLUS

A BONUS Basement module!
Each module comes with a video PLUS a detailed PDF worksheet to help you implement what you've learned.
And we can't forget the bonuses!
BONUSES:
LIFETIME ACCESS TO A PRIVATE FACEBOOK COMMUNITY - with personal input from me and weekly Lives (worth $997)
MY FULL DESIGN YOUR HOME PACK (worth $147), including:
All of your Fab in 5 Challenge PDFs - NEW AND IMPROVED

Product Finding Site List

7 Steps to Your Perfect Gallery Wall

The Foolproof Way to Style Your Surfaces

Your Personal Product Calculator Spreadsheet - formulated to add up your costs by room so you can keep track and make sure you're staying within your budget!
ONE 30-MINUTE SKYPE CONSULTATION WITH ME (worth $97), including:
(5-7 minutes) Showing me the room in your home that's giving you the most trouble (by video)

(10-15 minutes) Discussing your personal style and your likes and dislikes

(10 minutes)My personal suggestions customized to YOUR home and YOUR style
And you get ALL of this for only…
$297
$147
THIS IS THE ABSOLUTE LOWEST PRICE THIS COURSE WILL EVER BE!
(After this beta launch, the price will be going up - and staying up!)
---
Kayla is pleasant to work with, accommodated our time frame, and was able to work around conditions like support poles, exterior doors, unloved floors etc. She created a space that is both functional and beautiful. She was able to listen to different family members input and synthesis everyone's ideas to come up with a space that satisfies everyone. I highly recommend Kayla for your home, she wants what is best for you!
Annie Lederfiend, Brooklyn, NY
---
LET'S JUST RUN THROUGH THIS ONE MORE TIME!
BUYING THE

DYDH COURSE

HIRING AN

INTERIOR DESIGNER

Learn and implement your personal style

Possibly end up with a home that doesn't feel like "you"

Doing it one part at a time, on your own time

Most likely a long and drawn out process

Designing your home around YOUR family

Designing a home that looks perfect but is easily messed up

$297 $147 investment

$997 investment (at least!)
IT'S PRETTY MUCH A NO-BRAINER!
STILL ON THE FENCE?
WHAT'S REALLY STANDING IN YOUR WAY?
But - I don't have the budget to redesign my home right now!
This course is for life. So, whenever you're ready, you can come back to learn and implement my methods.
How can I be sure that you'll teach me what I need to know?
Check out my free Facebook group - I've helped over 1000 people with personalized design advice.
How can I trust that you know what you're talking about?
This is an absolutely valid question! I went to school for architecture and interior design and have been working in the field for over 4 years - plus, my satisfied clients can attest to this!
I can't pay this much right now.
It's absolutely your decision. But I just feel like I need to let you know that in this beta run of the course, this is the lowest the price will EVER be. But, if you still don't have the budget for it right now, I will have payment plans in the future!
I don't have time to take a course, I just need my home redesigned!
This will TOTALLY save you time! Projects with interior designers tend to drag on (through no fault of either side!) Like this, you can take the course and redecorate in your own time.
Nothing can help me. I'm just not a stylish person.
You don't need to be! The course will teach you everything you need to know about how to understand what your room needs. And don't forget - the FB group is there for a reason! The community is the best part! And I'll always be there to advise and help.
I have kids - whatever I do or redecorate, they'll destroy.
This course is geared to be customizable to YOUR family and YOUR needs, and you're taught how to incorporate them into your design plan!
I can't do it myself! I need someone to come in and do it for me.
You don't know that! If you feel that way, the Facebook group is there to help. And if you really feel you can't do it yourself, the course will help you prepare for the interior designer so that the process will go faster and smoother than it would otherwise because you'll know what you want, and what's important in a room.
I don't own my home. How can I change anything?
Don't you deserve to love your space? Renters are people too, right? In any case, most of the design recommendations are cosmetic and not structure changing, so you shouldn't have a problem.
I already know what I want and what I need - I just need to DO IT.
My course breaks it all down so that it's not overwhelming and it actually gets done (otherwise you'd have done it already, right?). Plus, there are always tips and tricks you can learn to make your home look more professionally designed.
DON'T FORGET: THIS IS YOUR ONLY CHANCE TO GET ALL OF THIS VALUE AT THIS LOW PRICE!
Any other questions?
Feel free to contact me at kaylahomedesign@gmail.com. But hurry up, the cart won't be open forever!